Trying to understand how to make a Super-Pharm cash deposit? Look no further, let these simple steps guide you through the process. To find your nearest Super-Pharm participating branch click here to see it on an interactive map click here.
Do keep in mind that you also have the option of making a Wire Transfer. You will get a refund, and will also be able to send money from the convenience of your home.
To make a cash deposit, if you are a new user, ensure that you have signed up. If you haven't yet signed up here is a guide. If you have an account already make sure to firstly log into your account.
1. Send Money
After you log in to your account, you will be on the Home tab. To make an order, click on Send Money button or the green Get Started button.
2. Enter Amount
Once on the Send Money tab, enter the amount you want to send (in shekels or in your home country currency) into the calculator. You will see how much you will exactly receive based on today's rate. Click on Next once you are ready.
3. Choose Receiver
Choose your Receiver, if it is a new one click "Add Receiver"
and go to step 4. If you already have a previous receiver you can skip to step 9.
4. Add Receiver
Enter the Receiver's details (first name, last name, receiver city, receiver phone number).
Please check that the information you key in is correct because mistakes can lead to delays in the transfer. Click on Next after that.


5. Receiving Method
Choose how you would like the money to be received, either through their bank account or Cash Pick-Up (Philippines only) or Mobile Wallet (Philippines only).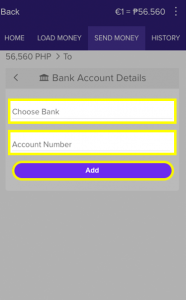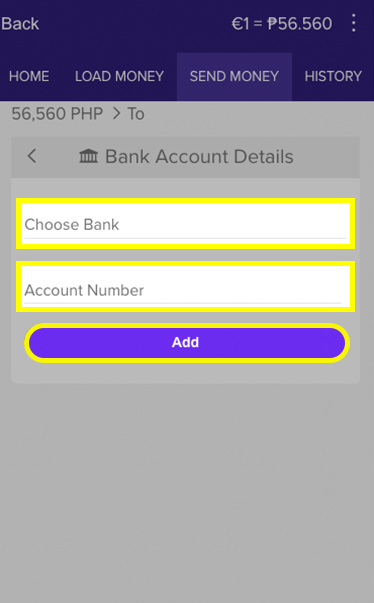 If receiving through a bank account, choose the recipients Bank and Account number and click "Add".​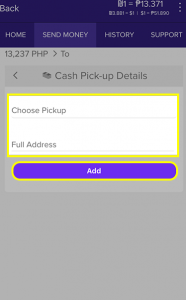 If receiving through cash pick-up choose the Cash Pick-Up outlet and enter the full address then click "Add".
If receiving through mobile wallet choose the mobile wallet type – either Gcash or C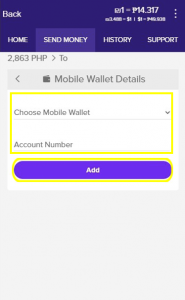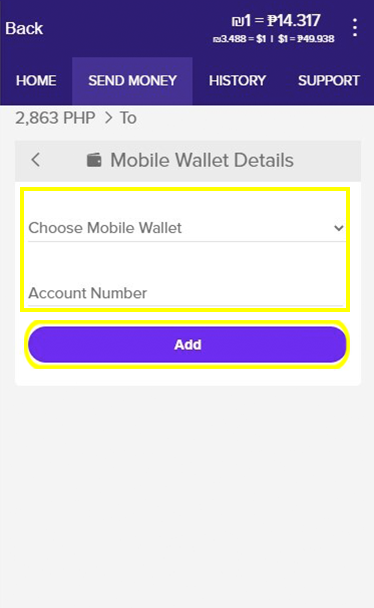 oins.ph and enter the account number and click "Add".
]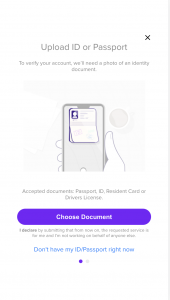 If you are a new customer you will need to upload an ID/Passport photo or take a new photo of yours, for verification purposes.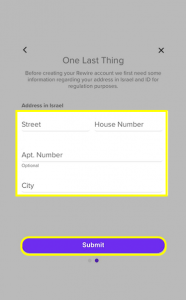 If you are a new customer you will need to enter your Israeli address including street, house number, apartment number and city then click "Submit."
9. Choose Cash Payment
Now you will need to decide how you would like to make the deposit to your Rewire Account. Select Pay Cash to make a cash deposit to Rewire.
10. Find your Closest Branch
Turn on your location service on your device if you have not already. Key in Super-Pharm in the search bar to see which are the Super-pharm branches near you.

Click here for the updated list of Super-Pharm branches that you can deposit at. Select a the Super-Pharm branch nearest to you.

11. Confirm Order
This is the last step before your order is created. Ensure that the order details (recipient, bank details of the recipient, the amount you are sending) are correct.

Take note of the expected date you will receive the payment in your receiving country. Click on Confirm to confirm the order.
12. Order Created
A message will appear on your screen to let you know that your order has been created. After selecting Got It, you will get a SMS.

You will now have to make a cash deposit to the Super-Pharm branch you have selected within 2 hours. Your order may be cancelled should you not complete the deposit within a day.
13. At the Super-Pharm Branch
1. Go to the cashier at a participating Super-Pharm. Find your nearest Super-Pharm branch for deposit here.
2. Ask to deposit money to Rewire and show your passport that you have used to sign up with Rewire, and give your phone-number. If the cashier will say that no user is found, call us immediately.
3. Once identified, hand over your money to the cashier.
4. Once accepted, the cashier will print a receipt for you. Make sure you keep the receipt. A refund can only be issued within 30 minutes of the deposit.
14. After Depositing
Once you have made the deposit, you will notice that your Balance on the Home tab is updated immediately with the exact amount you have just deposited.
If you will open an order, just select Rewire wallet.
15. Processing Payment
Once you have made the deposit, click Mark as Paid button as seen on step 12, now you will see under your order - Processing Payment, the money should arrive within 1 business day to your Receiver unless its made before a weekend. Once it is complete it will say Payment Complete.
You are done!
Just sit back and relax while your money reaches your Rewire account safely.