To invite your friends to Rewire, you need to log-in to your account and select the "Share Rewire" button where you will find options to share via Whatsapp, Email, Facebook & Viber.
Once your friend has signed in, activates his account, and makes a transfer of at least ₪500, you will receive a Bonus of ₪50 cash-back into your Rewire balance to be used to send money home within 3 days. Your friend will also get 2 free transfers! 


For a limited time only you can win ₪2,000  in our Referral Raffle! Receive a raffle ticket for every new friend that uses Rewire for the first time. The more friends you invite, the higher your chances are of winning ₪2,000,
*Valid from April 1st to May 31st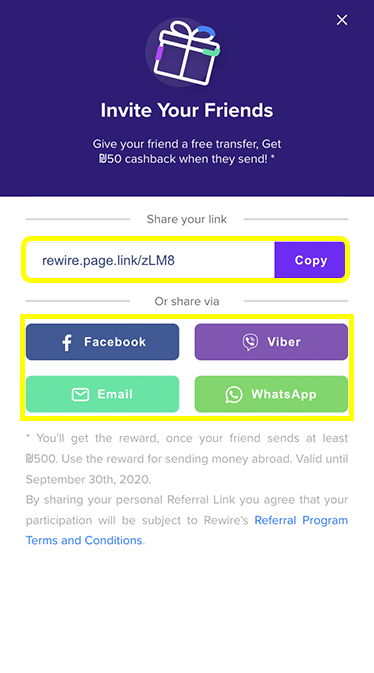 Step 2
Choose the best way to invite your friends! You can share the code by clicking "copy" and paste it to your friends. You can also click on Facebook, Viber, Email or Whatsapp to share in those channels.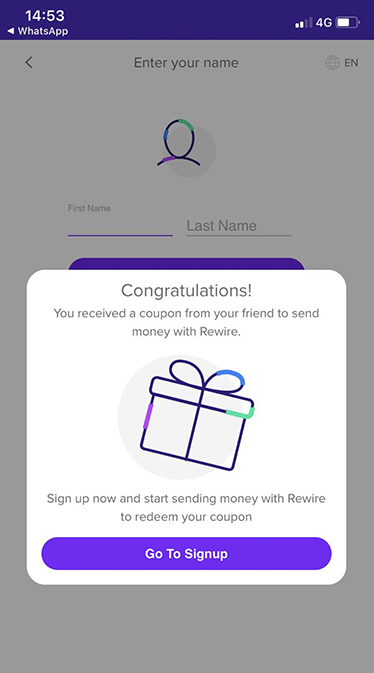 Step 3
Once your friend clicks on your special referral link it will go to the sign up page like in the picture and they will see they have received a coupon for a free transfer. Once they send at least 500 ILS in one transfer you will get credited 50 ILS Cashback to your Rewire account to send home within 3 days. And your friend will get 2 free transfers!

And you're done!
Start sharing your love for Rewire with your friends!