Making a wire transfer to your Rewire account gives you the freedom to deposit to your account from anywhere. There is also the additional benefit of getting a discount, as compared to a cash deposit. 

You will get a refund of 10% off the fees back to your Rewire account towards your next transfer.

To make a wire transfer from your Postal (Doar) Account, ensure that you have signed up for a Rewire account. You also need to firstly register to online postal banking for a guide click here. If you have an account, log into

 your account. 
1. Send Money
After you log in to your account, you will be on the Home tab. To make an order, click on Send Money button or the green Get Started button.
2. Enter Amount
Once on the Send Money tab, enter the amount you want to send (in shekels or in your home country currency) into the calculator. You will see how much you will exactly receive based on today's rate. Click on Next once you are ready.
3. Choose Receiver
Choose your Receiver, if it is a new one click "Add Receiver"
and go to step 4. If you already have a previous receiver you can skip to step 9.


4. Add Receiver
Enter the Receiver's details (first name, last name, receiver city, receiver phone number).
Please check that the information you key in is correct because mistakes can lead to delays in the transfer. Click on Next after that.


5. Receiving Method
Choose how you would like the money to be received, either through their Bank Accoount, Cash Pick-Up or Mobile Wallet (The last two apply to the Philippines only).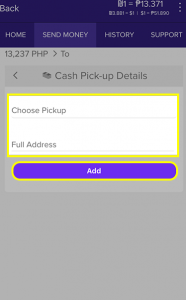 If receiving through cash pick-up choose the Cash Pick-Up outlet and enter the full address then click "Add".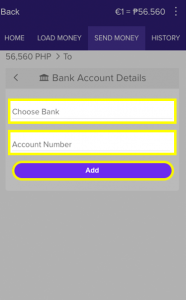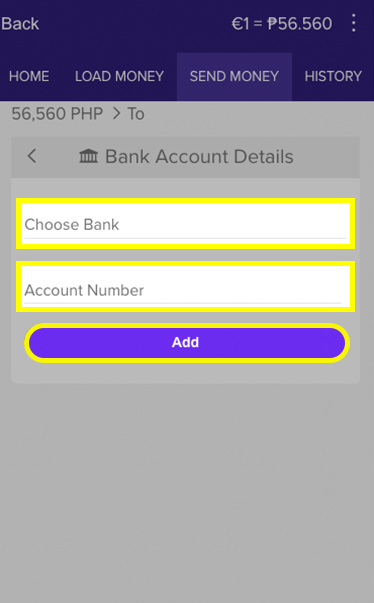 If receiving through a bank account, choose the recipients Bank and Account number and click "Add".​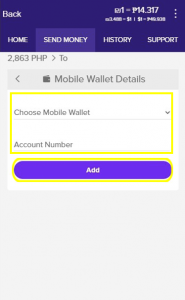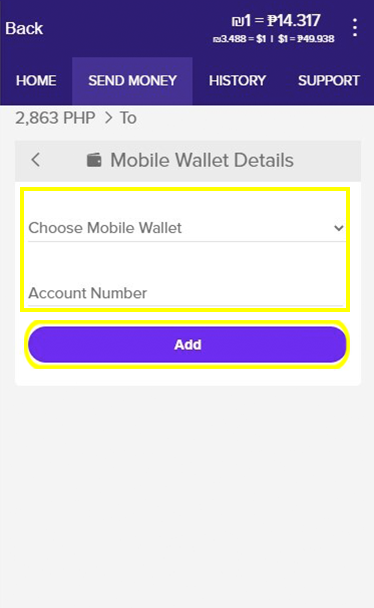 If receiving through mobile wallet choose the mobile wallet type – either Gcash or coins.ph and enter the account number and click "Add".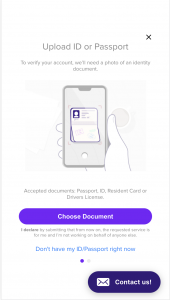 If you are a new customer you will need to upload a clear image of your ID/Passport photo or take a new photo of yours, for verification purposes. Click "Choose Document" to choose your form of ID, then upload it and make sure it's clear.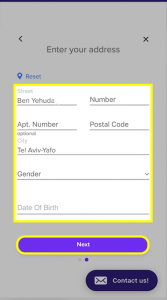 If you are a new customer you will need to enter your Israeli address including street, building number, apartment number, postal code and city. Select your gender and date of birth then click "Next."

9. Choose Payment Method
Now you will need to decide how you would like to make the deposit to Rewire. Select Wire Transfer.
10. Confirm Payment Details
This is the last step before your order is created.
Ensure that the order details (recipient, bank details of the recipient, the amount you are sending) are correct.
Take note of the expected date you will receive the payment in your receiving country. You will receive wire transfer benefit - 0.1% of the amount deposited, which will be credited to your account along with your deposit reflected as Deposit Refund.

Click on Confirm to confirm the order.

11. Order is Created
There will be a pop up to let you know that the order is created.
You will have to make a wire transfer to Rewire's bank account within the next 2 hours. This has to be done using your Israeli bank account (Postal Bank (Doar), Discount, Hapoalim, Leumi etc). Click Got It!
12. Transfer from your Bank or Postal Account
Once you have made the deposit, in the Home tab click on following information above right "Mark as Paid" button, to see the Rewire Bank Account Details to transfer your money there.

Account Name: Rewire
Bank: Hapoalim or 12 Branch: 174
Account Number: 243881
Reference Number: Your Phone number or Passport Number

It will take 1 business day for the money to reach your Rewire account. Once we receive your funds, the order will be processed in 1 business day,
13. Go to the Post Office (Doar) Account Website
Enter www.bankhadoar.co.il and change the language on the top right corner to English then click Enter Your Account.
14. Click to Enter
Click on Enter Your Account button.
15. Login to your Account
Enter your user name, ID number and Password that you used to register you Postal account, then click Enter Your Account.
16. Start the Transfer
Click on the Account Activity at the top left, then you will get a drop down menu then click on Money transfers then then click on Transfer to account in Israel.
17. Enter the Rewire Receiver Bank Details
Select the bank: "12 - Poalim"
Branch: 174
Account No: 243881
Payee's Name: Rewire

Then click Next
18. Enter the Transaction Details
Enter the transaction amount of the order you started at Rewire, choose a purpose of Transfer (Personal is fine) then specify - which is the reference - This needs to be your phone number or passport number.

Then click Next.
19. Confirm with SMS
To complete the transaction you need to confirm by getting a security code sent to your phone via sms.

Click Send code.
20. Transaction Completed
Enter the code you received by sms and now your transaction should be successfully completed when you see this screen. Return to your Rewire app.
21. Mark As Paid
Once you have made the transfer, remember to go back to the Home tab and Mark As Paid.
It will take 1 business day for the money to reach your Rewire account. Once we receive your funds, the order will be processed in 1 business day,
You are done!
Just sit back and relax while your money reaches its destination safely.
If you have any questions feel free to contact our support team for any assistance.
Call: 07767 07767
Email: [email protected]
Facebook Messenger
WhatsApp: +972 5845 00405