These steps will guide you to send money from Israel to your home country.
To do so, firstly, you have to load money either through 

c

ash deposit points like GMT, Post Office (Doar or Super-Pharms) to your Rewire account. Once you have a Balance, you can
send
 this money (
Wire Transfer
or 
Cash Pick-Up) to your receiver.
If you are a new user, ensure that you have already signed up
for a Rewire account before you follow this guide. If you have an account,
log into
your account.
Using Rewire's Calculator
In order to create an order to Send Money with Rewire, click on the Send Money tab. Once on the Send Money tab, enter the amount you want to send (in shekels or in the currency you are sending to, for this example pesos) into the calculator. You will see how much you will exactly receive based on today's rate. Click on Next once you are ready.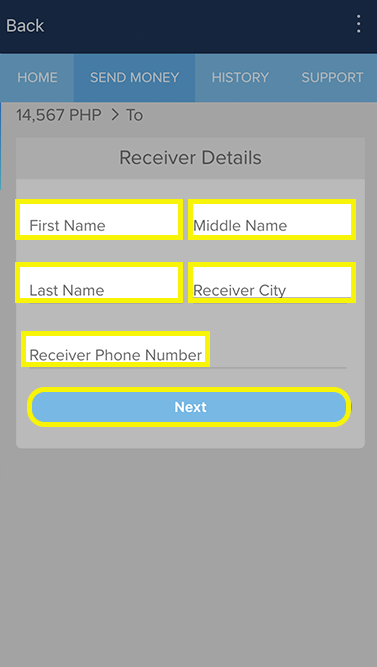 Add Receiver Details
Enter the Receiver's details (first name, last name, receiver city, receiver phone number). Please check that the information you key in is correct because mistakes can lead to delays in the transfer. Click on Next after that.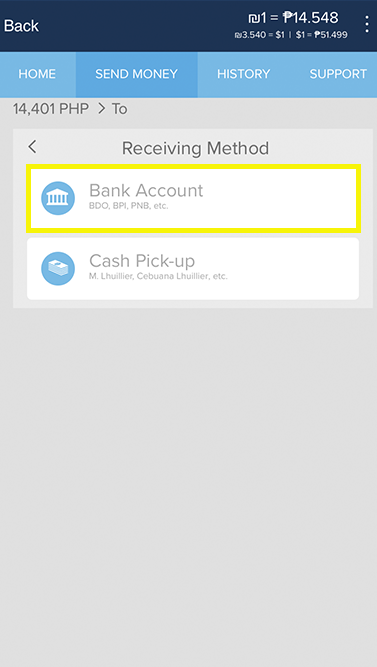 Choose Receiving Method
Choose between the receiving methods either click on Bank Account or Cash Pick-Up if it is available. For Bank transfer continue to the next step, for cash pick-up go to that section.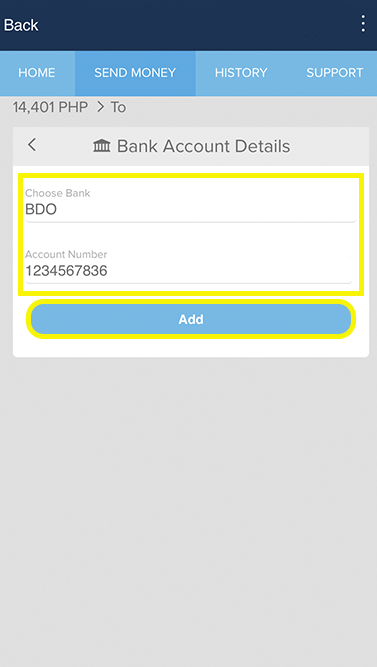 BANK TRANSFER COLLECTION
Enter Receiver Bank Details
Choose the receiver's bank and account number and click add.
*For people sending money to India you will be asked to add your IFSC (branch number).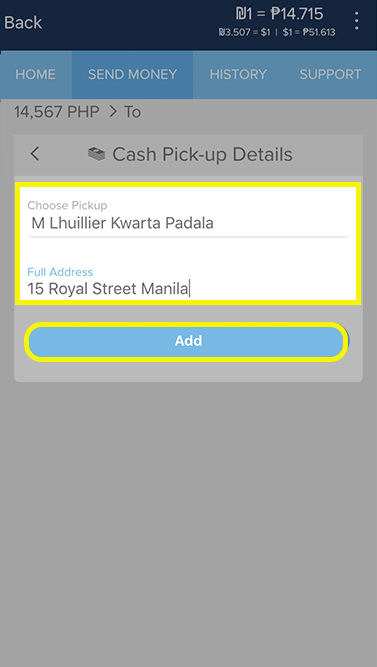 CASH PICK UP
Cash Pick-Up Details
Enter the cash pick-up company, then the full address.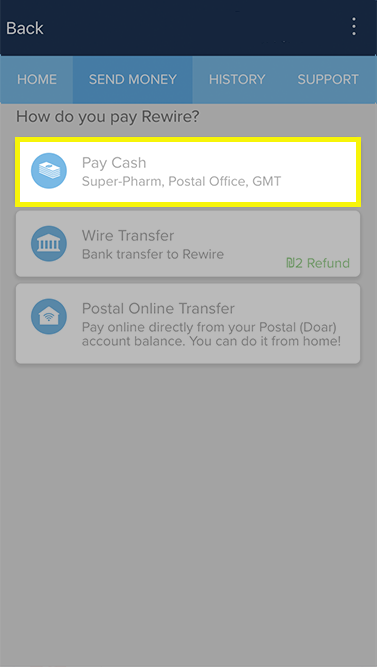 Choose Mode of Payment
If you would like your Receiver to get a wire transfer direct from your bank or postal account, click here .


If you would like to pay cash continue to the next step.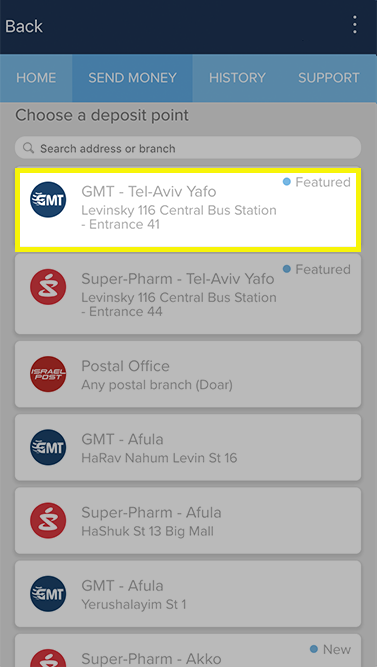 Select your Deposit Location
Choose your nearest/most convenient location to deposit the cash to your Rewire account including Post Offices, GMT or select Super-Pharms to see the full lists of the locations click here .

For a guide to
If you would like to pay cash continue to the next step.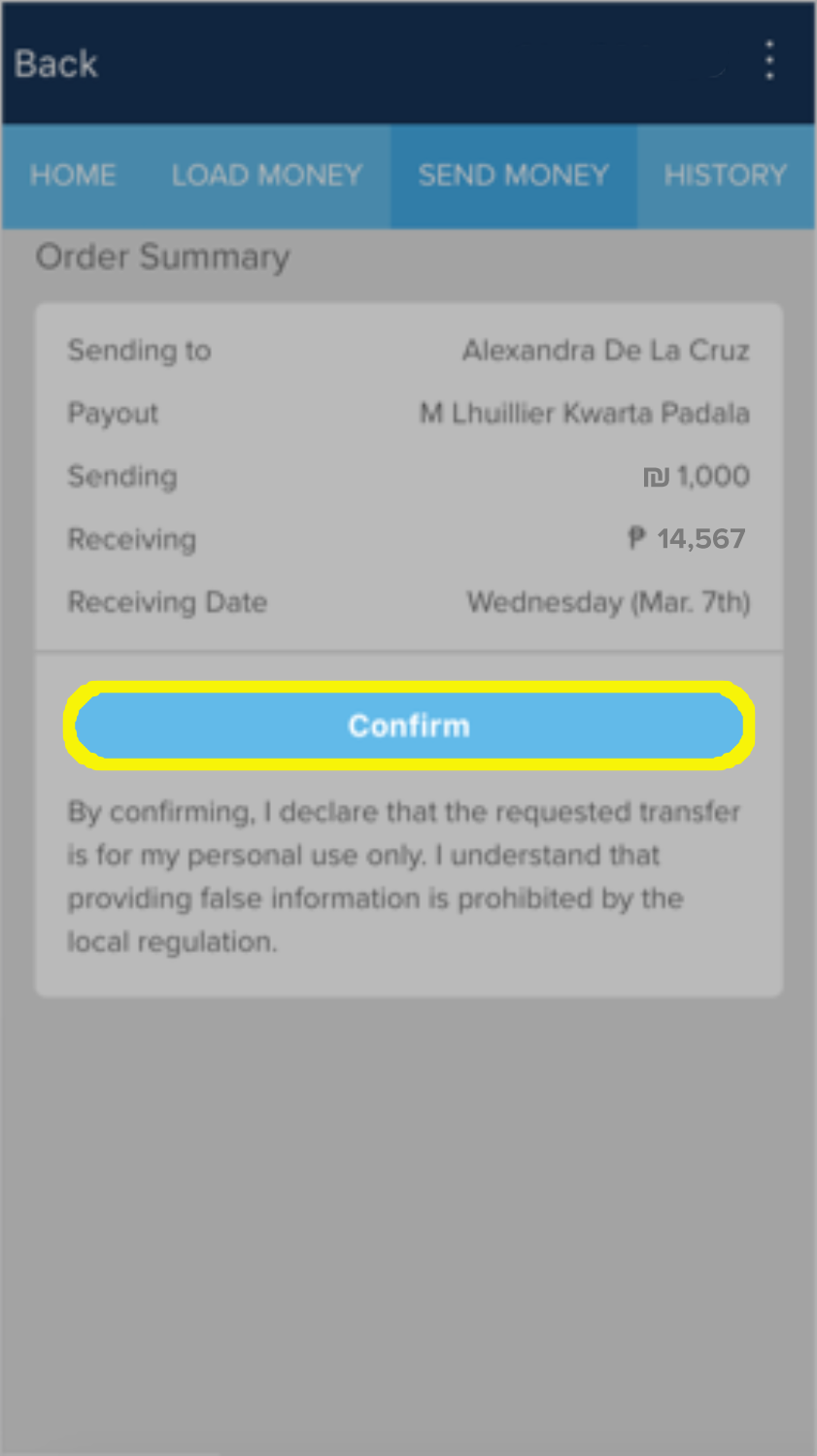 Confirm Order
Check all the details of the cash pick-up transfer are correct and click confirm.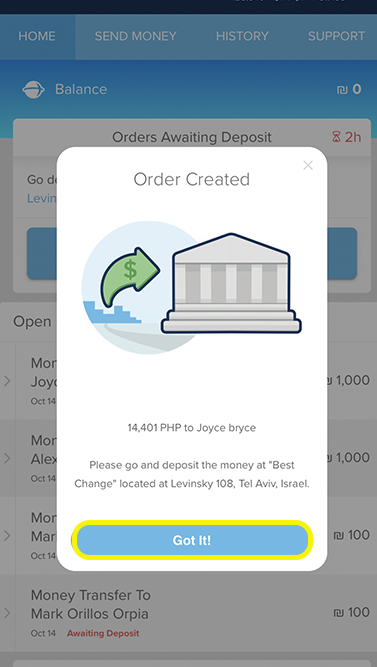 Order Created
The order has now been created, now go to the branch of GMT, Post Office of Super-Pharm you have selected.

For a guide for Super-Pharm Deposits deposits click here .
For a Guide for Post Office Deposits click here .
To deposit to GMT:
1. Go to the cashier at a participating GMT. Find your nearest GMT participating with Rewire here .
2. Ask to deposit money to Rewire and show your passport that you have used to sign up with Rewire, and give your phone-number. If the cashier will say that no user is found, call us immediately.
3. Once identified, hand over your money to the cashier.
4. Once accepted, the cashier will print a receipt for you. Make sure you keep the receipt. A refund can only be issued within 30 minutes of the deposit.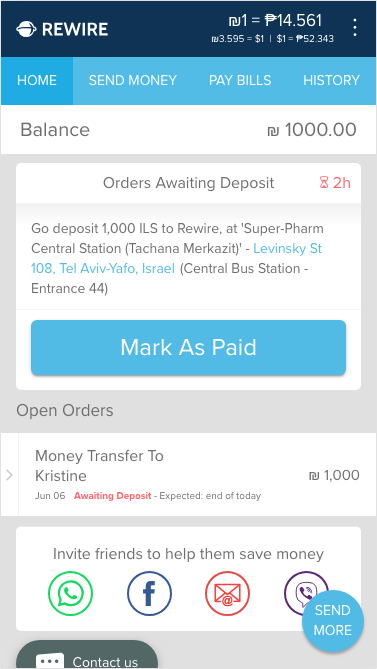 After Depositing
Once you have made the deposit, you will notice that your Balance on the Home tab is updated immediately with the exact amount you have just deposited.
Remember to click Mark as Paid.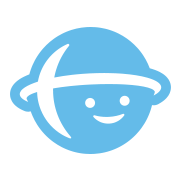 That's it now sit back as your money
is transferred to your loved ones.